Virtuosity Drums is an open source (Creative Commons 0) contemporary Jazz drum kit library, performed with sticks, recorded at Virtuosity Musical Instruments in Boston, MA.
It features performances by drummer Austin McMahon on the shop's "house kit", indicative of a typical setup in a live club or venue, recorded in the style of a live recording. With six mixable mic positions and detailed controls, it will work in many other genres too.
Developer:
Versilian Studios LLC. and Karoryfer Lecolds
Software:

For (free) Sforzando Player (download)

Format:
.sfz (Sforzando)
Samples:

1,000 Samples; 4,900 Files

(?)

Samples are individual performances, not including duplicates from multiple mixes or mic positions. The File count is the total number of sample audio files in a product.

Filesize:
1.1 GB of HDD space (+1.1 GB for installation files)
Other:

HDD of 7200+ RPM or SSD recommended
Watch the video above, or follow the steps below:
1. Download & Install Sforzando Player.
2. Download & Extract Virtuosity Drums .zip file (above).
3. Open Sforzando either as an app or as a plugin in your DAW.
4. Drag and drop the 'VirtuosityDrums.bank.xml' file into Sforzando.
5. Select the instrument you wish to load under 'Instrument:'.
6. Get drumming!


On Location Capture
Recording took place at Virtuosity Musical Instruments, located in the Symphony area of Boston, MA. Virtuosity is a hotspot for the local Jazz community and home to a weekly session and other performance settings.
The samples were performed by drummer Austin McMahon. Austin performs regularly with Jerry Bergonzi's Quartet and has recently performed and/or recorded with Sean Jones, George Garzone, Joe Lovano, Lionel Loueke, Ben Monder, Lage Lund, Kate McGarry, Noah Preminger, Jason Palmer and Grace Kelly.
Austin currently teaches in the Jazz Department at New England Conservatory Preparatory and Continuing Education Division, Boston, MA.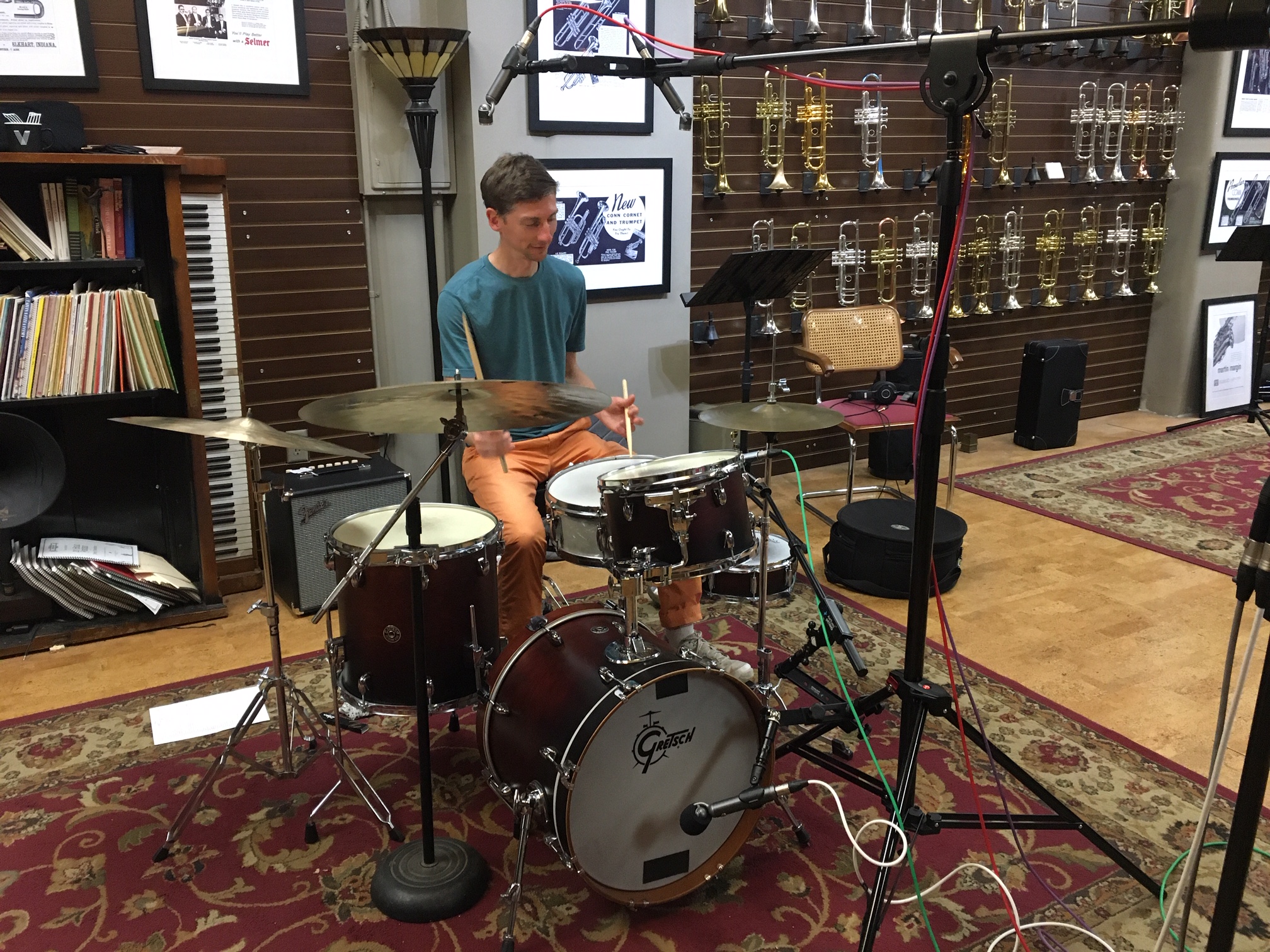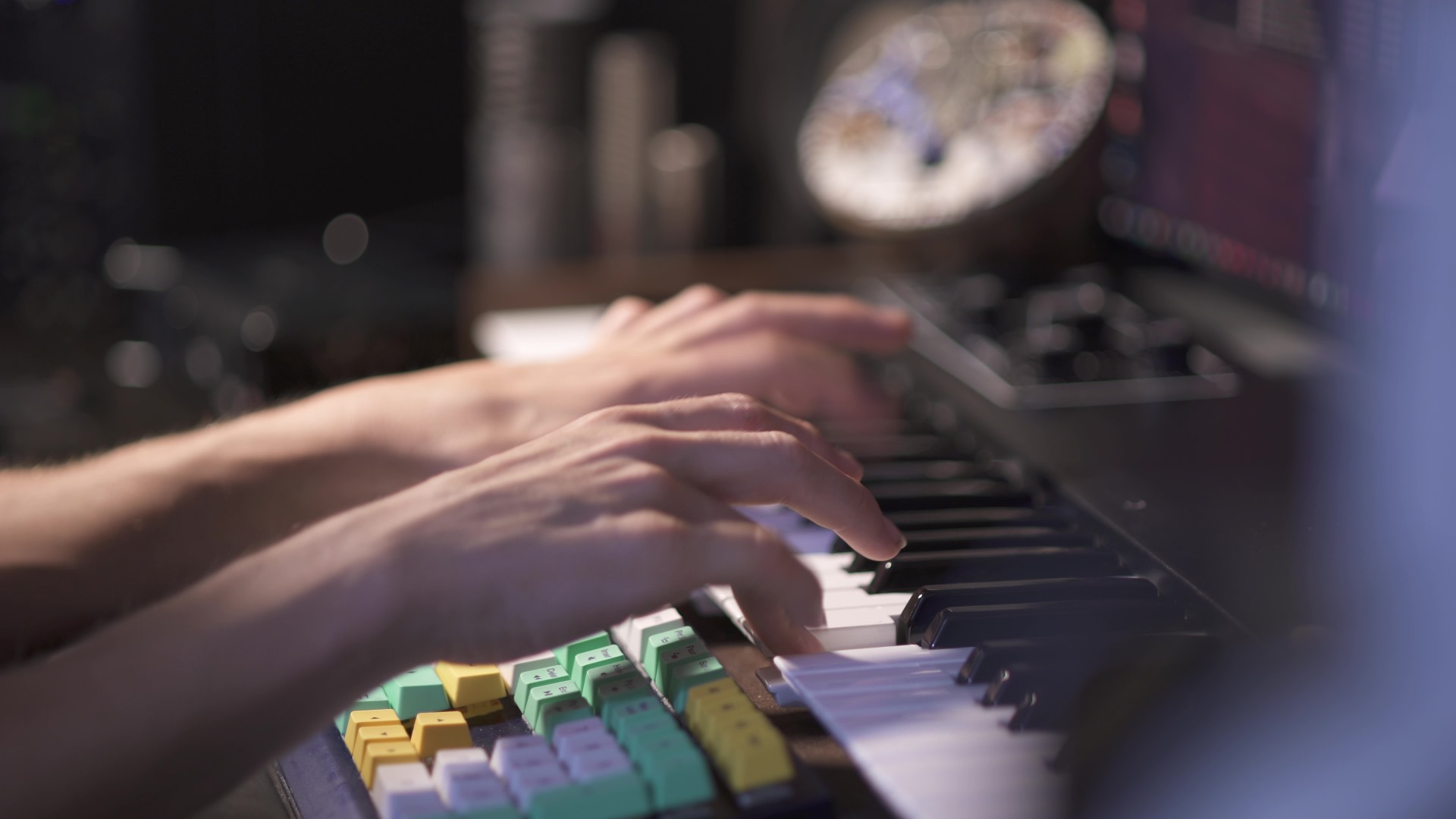 Up to 36 Dynamic Layers
The snare, toms, and kick were recorded with a special 'wave' technique, where rather than attempting to record discrete dynamic levels, the drummer freely played louder and softer notes. The result is up to 36 dynamic layers with no round robins, which makes these instruments very suitable to live playing on keyboard or virtual drums as they will benefit enormously from the natural variation in velocity.
The cymbals on the other hand use a smaller number of discrete velocity layers at 4 round robins, to help in situations of high repetitions.
Detailed Microphones
For overheads, we used Blue Hummingbirds, which are deliciously articulate on toms and cymbals as well as being extremely low noise. A Samar VL-373A stereo ribbon mic serves as Mid, providing a rich, full sound with gently rolled-off highs.
A pair of sE RN17's serve as room/main mics in NOS configuration, providing a natural audience sound with clear articulation. The snare is handled by a Shure 545SD, grandfather of the SM57, with another Hummingbird on the kick.
As a treat, an ancient Shure Hercules from the 1950's is provided as a 'vintage'/lo-fi sound.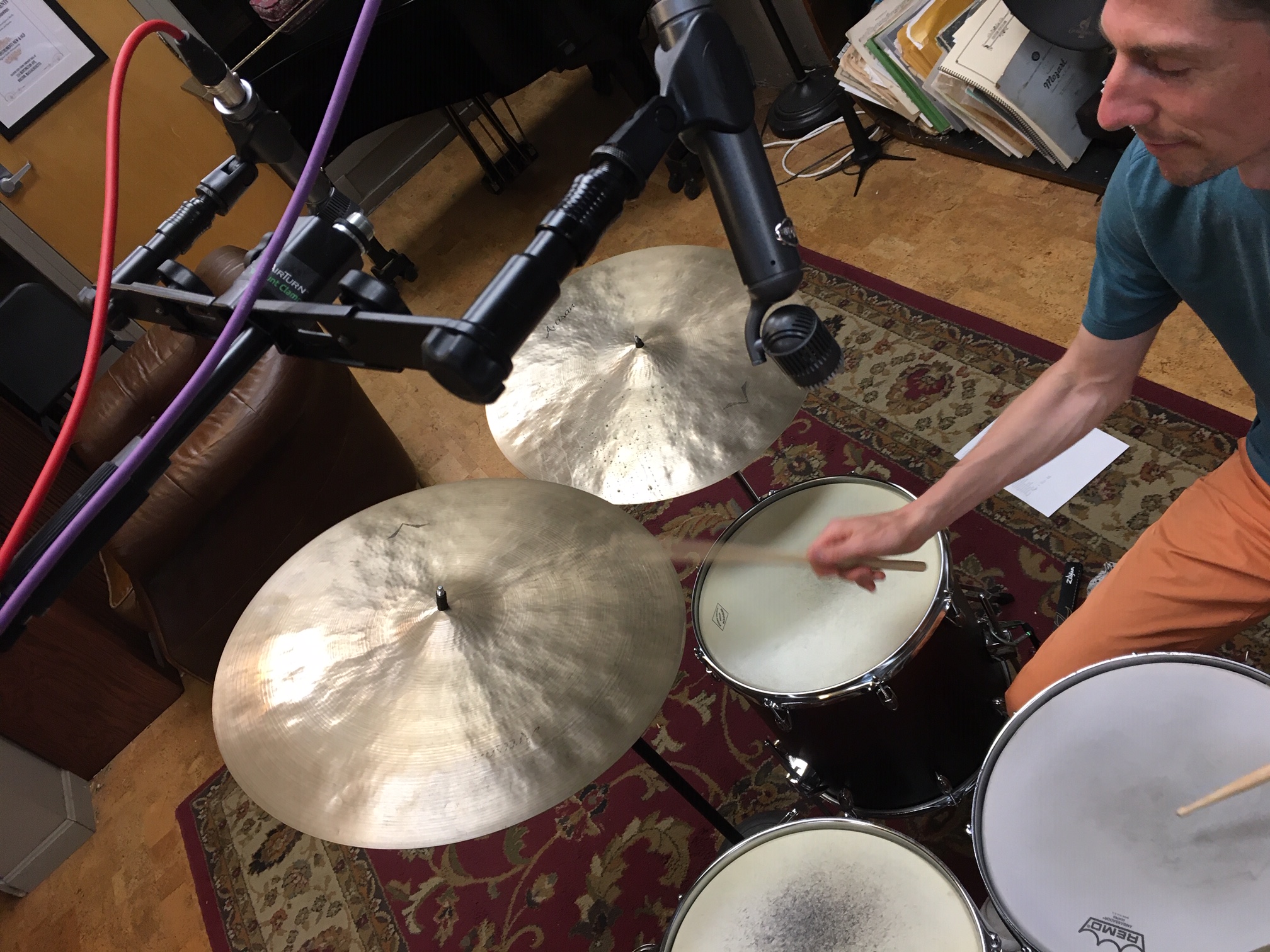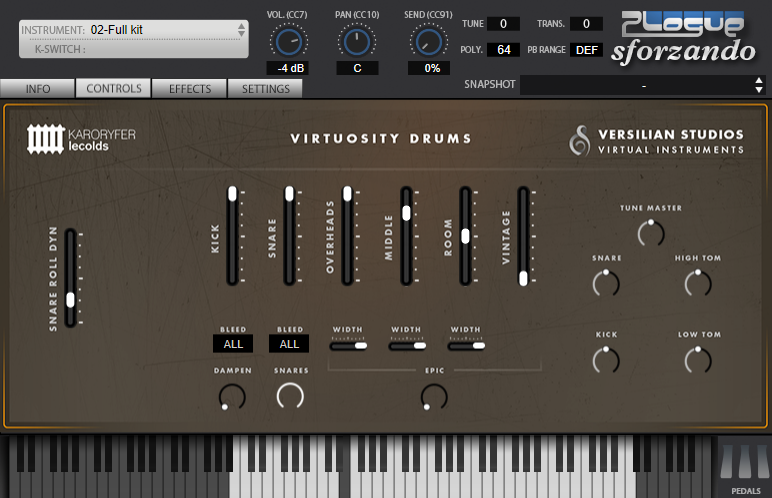 Extended Controls
Designed by Versilian's Simon Autenrieth and implemented by Karoryfer's D. Smolken, the custom GUI provides a level of control not typically found in freeware.
Mics can be mixed with volume, bleed, and width controls. The kick can be dampened for a more pop-style sound, snares can be switched on and off, and an 'Epic' knob which adds a lower octave to the samples for cinematic impact.
To the right a range of Tune controls allow you to adjust the pitch of each piece of kit.
For pro users, the entire drum map can be adjusted and altered to your needs.


Kick
kick – Snares On

kick – Snares Off

Snare (all with both snares on and off)
snare – Center Hit
snare – Off-center Hit
snare – Stickshot
snare – Rimshot
snare – Stickshot, Alternate
snare – Hand-Muted Hit
snare – Half-Hand Muted Hit
snare – Cross-stick
snare – Flam
snare – Single Buzz
snare – Continuous Roll (CC1 dynamics)
Toms
low tom – Center Hit

low tom – Off-center Hit

low tom – Rimshot

low tom – Cross-stick

low tom – Hand-Muted Hit

low tom – Half-Hand Muted Hit

high tom – Center Hit

high tom – Off-center Hit

Cymbals
hi-hat – Closed Hit

hi-hat – Open Hit

hi-hat – Pedal

hi-hat – Half-Open Hit

hi-hat – 3/4ths Open Hit

hi-hat – Splash Hit

ride – Normal Hit

ride – Bell Hit

flat ride – Normal Hit

flat ride – Used as Crash

crash – Normal Hit

crash – Sizzle Crash

Auxiliary Percussion (from VSCO 2 Pro)
perc – Cowbell

perc – Vibraslap

perc – Bongo (high/low)

perc – Conga (muted/open)

perc – Tumba

perc – Timbale (high/low) (Karoryfer)

perc – Agogo Bell (high/low)

perc – Cabasa

perc – Shaker

perc – Whistle (long/short)

perc – Guiro (fast/slow)

Auxiliary Percussion (cont'd.)
perc – Claves

perc – Woodblock (high/low) (Karoryfer)

perc – Cuica (mute/open)

perc – Triangle (mute/open)

perc – Shaker

perc – Sleigh Bell

perc – Bell Tree